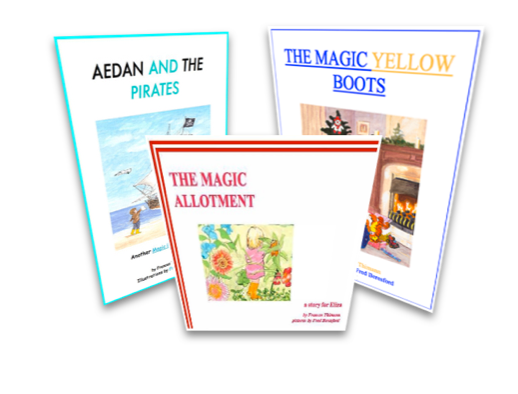 … It was a grey cloudy day, and quite boggy and soggy underfoot.
There was nothing to see in the wood, no birds or animals, and Aedan wished he was back at home. He fell behind the others, sploshing and splashing through the mud in his new yellow boots.
"Come along, Aedan!" called Mummy. "It's getting quite dark. You'll get lost!"
"I just wish there was something interesting around here," he grumbled to himself.
And then a most wonderful thing happened...!
'The Magic Boots' stories are about a little boy, Aedan, who is given some yellow boots for Christmas. While wearing them he has wonderful adventures involving unicorns, dragons, pirates, mermaids, and sunken treasure. In later stories, his younger brother appears too, and his little sister tries them on and has her own adventures. The series could run and run!
The stories aren't intended for publication but were written for the youngest members of my family. I asked local artist Fred Beresford to illustrate them and was very pleased and impressed with the results.